Segments » NHRA / IHRA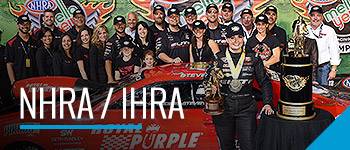 Close
NHRA / IHRA
NHRA/ IHRA Stock replacement pistons and rods
There are 80 different classes competing in NHRA Stock Eliminator. Over half of the 50 top competitors use CP- Carrillo products. As the industry leader in applying today's leading edge technology, we make every effort to provide you with the maximum horsepower and performance gains while still conforming to NHRA regulations. If you do not find your application, please give us a call. New pistons and rods are constantly added and we'll be glad to take care of the approval process for you.
Features included on the pistons
Ring groove flatness in millionths increases intake manifold vacuum
Custom skirt cam and barrel shapes
Forced double wrist pin oiling
Cut for double spiral locks
Connecting rods available with H-11 tool steel or Multiphase fasteners. All sets weight matched to +/- 1 gram per end
---
Reader Comments (0)
Post Comment
You must login to post comments.