Segments » Bullet Series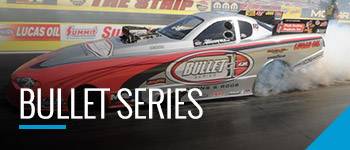 Close
Bullet Series
A new division of CP-Carrillo that will revolutionize the way you think about high performance pistons and rods
The Game Has Changed
No longer does low cost mean low quality
As the global economic climate continues to change, CP-Carrillo is proud to announce a new product division to stay current as the industry shifts to new directions. This series of pistons and rods will be the flagship for this new venture and will incorporate everything that has made CP-Carrillo the industry leader. Inspired by the top forms of motorsports, our goal is to offer a piston and rod alternative by introducing a high quality product at a reasonable price. Whether it is engineering or manufacturing, CP-Carrillo is constantly looking for ways to make our parts better. Extensive research and development along with centralized manufacturing cells have enabled CP-Carrillo to accomplish this goal and pass along the savings to our customers. Our restructured profit margins allow us to stay competitive and still offer a superior product while maintaining our core philosophy, to make the best part available for your application.
What Makes This Possible
Many people know that CP-Carrillo continues to be the leader in the high performance piston market. What people may not know is that CP-Carrillo is home to one of the most advanced, state of the art piston and rod manufacturing facilities in the world. Our facility and capabilities are second to none in this respect and this new division of CP-Carrillo is a perfect fit into an already advanced system. So what makes this possible?
Centralized manufacturing cells
Application specific forgings and hardware
Larger production runs
Available off the shelf
Same machines and tooling as CP-Carrillo branded products
What Does This Mean For You
This means added savings for you and your customers without compromising your reputation. CP-Carrillo has built a strong name for itself in every form of motorsports and with the introduction of this new division, CP-Carrillo can now offer you some of the highest quality pistons at a very affordable price.
---
Bullet Series Pistons
Features included
Pistons manufactured from 2618 alloy for strength and durability
Balanced to + or – 1 gram
Dual forced pin oilers
Contact reduction grooves
Accumulator Grooves
Contemporary ring set included (Comes standard with 1.5mm x 1.5mm x 3.0mm ring pack that consists of High-grade Steel Gas Nitrided barrel faced tops with Taper Hook Groove Napier second rings and a 3-piece soft nitrided rail flex vent oils, specially designed for severe duty applications such as nitrous blowers and turbo engines.)
Forged side relief
Chromoly wrist pins with wire locks
FEA designed forging
Tight tolerances
USA made
We also offer Bullet Connecting rods to complement the pistons selection. Click here »
---
Reader Comments (0)
Post Comment
You must login to post comments.