Close
Import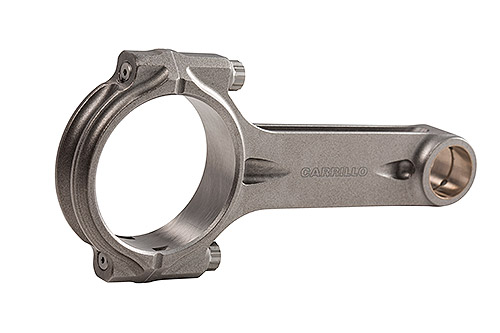 CP-Carrillo offers over 500 shelf parts from the Sport Compact shelf line with a wide range of sizes for the most popular engine types. Every rod is designed through extensive research and development with the support of some of the biggest names in motorsports. Connecting Rods are are available of the shelves with H-11 Tool Steel or Multiphase CARR fasteners. All of our products represent the highest quality and are engineered for maximum power.
Standard Shelf Connecting Rods
Features
Set balanced to + or – 1 gram
Most available in A, SA or H- Beam Style
Taper or Straight blade
Available with CARR or WMC fasteners
Laser Engraved Job Number for ease of traceability
100% Magnaflux inspected
Fully Machined
USA Made
Sport Compact Custom Pistons and Rods
We are able to custom make pistons and rods for a wide variety of engines not listed on our shelf parts. CP-Carrillo offers a wide variety of forgings made specifically for your application. Each piston and rod is designed using sophisticated 3-D modeling software and manufactured with advanced techniques making your product the lightest and strongest combination on the market. Our products are rigorously evaluated with a state-of-the-art FEA program to ensure optimum strength and weight. See the custom section for more details.
Here is list of engines we can make pistons and rods for (but not limited to):
Acura, Alfa Romeo, Aston Martin, Audi, Bentley, BMW, Citroën, Cosworth, Daewoo, Daihatsu, Dodge, Honda, Ferrari, Fiat, Hyundai, Isuzu, Jaguar, Jeep, Kia, Lamborghini, Lancia, Land Rover, Lexus, Lotus, Maserati, Mazda, Mercedes-Benz, Mercury, MG, Mini Cooper, Mitsubishi, Nissan, Opel, Peugeot, Plymouth, Renault, Rolls-Royce, Saab, Saturn, Scion, Skoda, Subaru, Suzuki, Toyota, Vauxhall, Volkswagen, and Volvo.