Close
VTwin
Harley Shelf Parts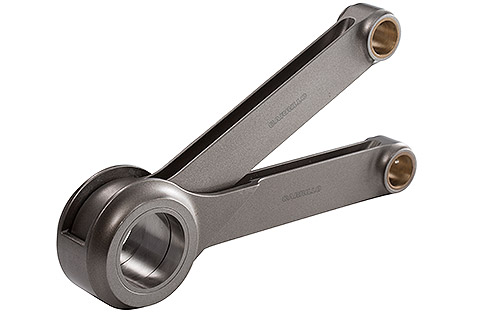 CP-Carrillo offers over 75 shelf parts featuring the Evolution, Twin Cam, Sportster, Sportster Conversion, Shovelhead, V-Rod and Indian Motorcycles. Every part is designed through extensive research and development with the support of some of the biggest names in motorsports. Connecting rods are available in standard stock replacement or custom design. All of our connecting rods represent the highest quality and are engineered for maximum power. All rods are made in our Irvine facility from USA materials.
Shelf Connecting Rod Features
Sets balanced to + or – 1 gram
Made from a forging
Laser Engraved Job Number for ease of traceability
100% Magnafluxed
Fully CNC Machined
Shotpeeded
Made in the USA
Harley Custom Parts
Besides our line of shelf Harley and Indian connecting rods, CP-Carrillo specializes in the manufacture of custom fork and blade connecting rods. All fork and blade rods are made on forgings to achieve that optimum strength and durability while reducing weight. Please see our custom section for more details or call our sales department.
Cometic gasket kits are available for all shelf parts.