Close
ATV / UTV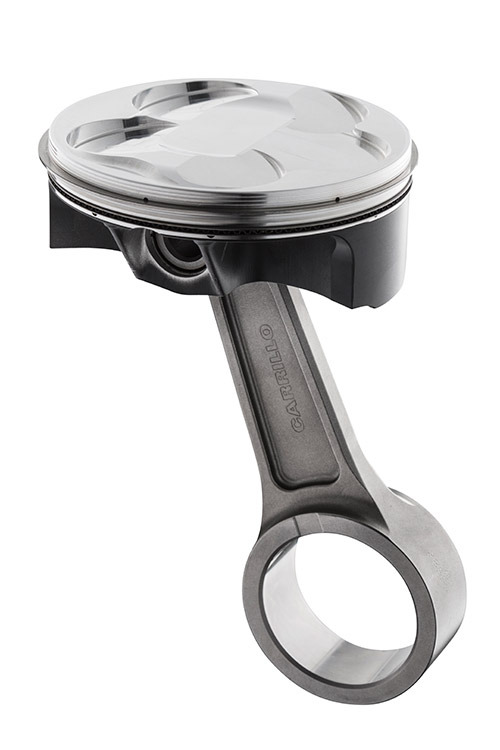 Do you want to run with champions?
CP-Carrillo offers over 700 shelf pistons featuring Honda, Yamaha, Suzuki, Kawasaki, KTM and many others for your street or powersports application. All our pistons and rods are designed through extensive research and development with the cooperation of some of the biggest names in motorsports.
Project X Pro Pistons
Highly advanced and refined process, researched, developed and tested for years with high end OE companies, significantly increases the durability of a part by reducing the stresses in the pin bore area. Instead of honing the pin bores, specific machines and processes, developed by CP-Carrillo, enable us to put different shapes and forms inside this area that allows the pin to flex while removing stress from this area. Since the pin bore is one of the most stressed areas of the piston, high end racers and OE's now require that this process be a part of their program. Although this specialized and expensive technology has been around at CP-Carrillo for years, we have now found a way to offer this on select parts in 2016 at a competitive price. Throughout our development and testing of this, we have been able to drastically increase the durability on parts while continually exceeding horsepower requirements.
CP-Carrillo Platinum kits.
These kits are available of the shelf and include a MX style piston, DLC Pin, Carrillo connecting rod and a Cometic EST gasket. These kits have been thoroughly tested and offer you a cost effective way to get the most out your projects. These kits come in standard bore sizes and accommodate stock stroke crankshafts allowing racers to remain legal in stock displacement classes.
CPK/CPKX Kits
In addition to CP-Carrillo kits we also offer CPK and CPKX kits for all of our catalog applications.  We have arranged the pricing so that it is more beneficial to buy a kit then to buy the components separate. Kit includes: piston, pin, locks, rings and gasket. In 2009, we tested the market with these kits and the response was overwhelming. Customers like the added value that these kits offer as well as the availability and simplicity when ordering. All of these kits come complete in one package, making shipping and storing easy.
M/MX Piston Kits
CP-Carrillo offers two kinds of 4 stroke : standard "M" kits and "MX" kits.  The main difference between these parts is that the MX kits are a fully boxed style part with skirt coating.  These pistons took about 2 years to develop – it actually started with Ricky Carmichael.  These MX kits will come standard with DLC.
The X factor
Project X for competitive street bikes / Powersport applications – off the shelf fully boxed pistons for a variety of street bike and Powersport applications. CP Pistons fully boxed forgings are designed to minimize friction and reduce weight without compromising piston strength. CP adjust the weight balance between the high and low areas of the piston during the forging process and incorporates bracing and ribs for near unbeatable strength. The inherent design of CP Piston's X forgings allow for the use of a shorter pin which increases strength and overall lightness of the assembly.
CP-Carrillo also offers a wide variety of products made specifically for you application. Each piston and rod is designed using sophisticated 3-D modeling software and manufactured with advanced techniques making you piston and rod the lightest and strongest on the market. See custom section for more details.
Millenium oversize cylinders are available for certain applications. See cylinder chapter under catalog section for more information.
Cometic gasket kits are available for all shelf parts. See gasket chapter under catalog section for more information. Gasket kits are listed in the catalog to correspond with your application.