Segments » VTwin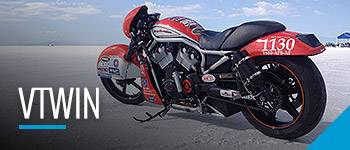 Close
VTwin
Harley Shelf Parts
CP-Carrillo offers over 75 shelf parts featuring the Evolution, Twin Cam, Sportster, Sportster Conversion, Shovelhead and V-Rod. Every part is designed through extensive research and development with the support of some of the biggest names in motorsports. Pistons are available in standard size or big bore kits and are compatible with higher lift cams and oversize valves. All of our pistons and rods represent the highest quality and are engineered for maximum power. All pistons and rods are made in our Irvine facility from USA materials.
Shelf piston features
Double Forced Pin Oilers
Accumulator grooves
Anti-Detonation Grooves
Fully CNC Machined
Pick-Lock Grooves
High Performance Rings
Laser Engraved Job Number for ease of traceability
Shelf Connecting Rod Features
Sets balanced to + or – 1 gram
Made from a forging
Laser Engraved Job Number for ease of traceability
100% Magnafluxed
Fully CNC Machined
Shotpeeded
Made in the USA
Harley Custom Parts
CP-Carrillo offers a wide variety of piston forgings made specifically for your applications. Each piston is designed using sophisticated 3-D modeling software and manufactured with advanced 5-axis techniques making your piston the lightest and strongest piston on the market.
Besides our line of shelf Harley and Indian connecting rods, CP-Carrillo specializes in the manufacture of custom fork and blade connecting rods. All fork and blade rods are made on forgings to achieve that optimum strength and durability while reducing weight. Please see our custom section for more details or call our sales department.
Cometic gasket kits are available for all shelf parts.
(Include images of Bullet Series HD Twin Cam pistons). Also include images of Hector Arana, Sternotti, Chris Riva, Ray Price.
---
Reader Comments (2)
Cones are the photoreceptors in the retina that are responsible for visual acuity they're the receptors that make it possible for us to see in detail and colour. This can be attributed to the fact that each cone cell is connected to its own individual bipolar cell. Therefore, <a href="http://www.vidwonders.com/">corporate video production</a>. unlike rod cells which can share a single bipolar cell with other rods, spacial summation cannot occur.
Denise
07/27/2017 04:15PM
<a href="http://www.google.com">google</a>
Post Comment
You must login to post comments.