410/360 Sprint Car specific connecting rods
A long time in the making and just in time for the trade shows, we are proud to announce a new 410/360 sprint car specific connecting rod. The new rods will come standard with CARR bolts and have no pin end bushing.
They offer a 75 gram avg weight savings with machined thrust face slots.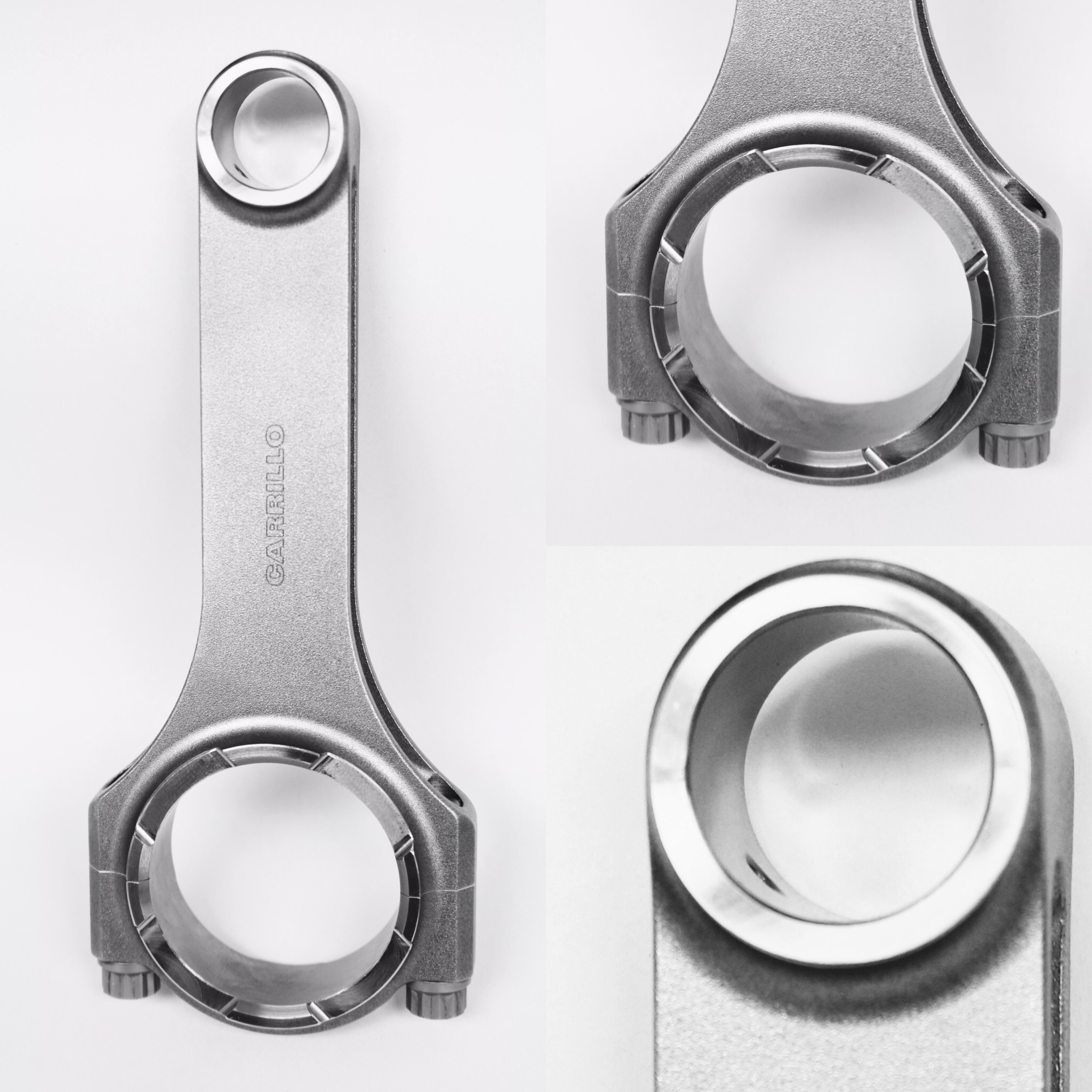 Part numbers
CS_BSP20_0HS_5850B6M, P/N: 9567, 8 cyl, Chevy 2.000" Jrnl .927 Pin Lt Wt 360/410, 5.850 Pro-H 3/8, MADE IN USA
CS_BSP20_0HS_6000B6M, P/N: 9568, 8 cyl, Chevy 2.000" Jrnl .927 Pin Lt Wt 360/410, 6.000 Pro-H 3/8, MADE IN USA
CS_BSP20_2HS_5850B6M, P/N: 9569, 8 cyl, Chevy 2.000" Jrnl .866 Pin Lt Wt 360/410, 5.850 Pro-H 3/8, MADE IN USA
CS_BSP20_2HS_6000B6M, P/N: 9570, 8 cyl, Chevy 2.000" Jrnl .866 Pin Lt Wt 360/410, 6.000 Pro-H 3/8, MADE IN USA
CS_BSPQ4_0HS_5850B6M, P/N: 9563, 8 cyl, Chevy 1.889 1663 Brg .927 Pin Lt Wt 360/410, 5.850 Pro-H 3/8, MADE IN USA
CS_BSPQ4_0HS_6000B6M, P/N: 9564, 8 cyl, Chevy 1.889 1663 Brg .927 Pin Lt Wt 360/410, 6.000 Pro-H 3/8, MADE IN USA
CS_BSPQ4_2HS_5850B6M, P/N: 9565, 8 cyl, Chevy 1.889 1663 Brg .866 Pin Lt Wt 360/410, 5.850 Pro-H 3/8, MADE IN USA
CS_BSPQ4_2HS_6000B6M, P/N: 9566, 8 cyl, Chevy 1.889 1663 Brg .866 Pin Lt Wt 360/410, 6.000 Pro-H 3/8, MADE IN USA