CP-CARRILLO INTRODUCES TITANIUM CONNECTING RODS FOR POWERSPORT APPLICATIONS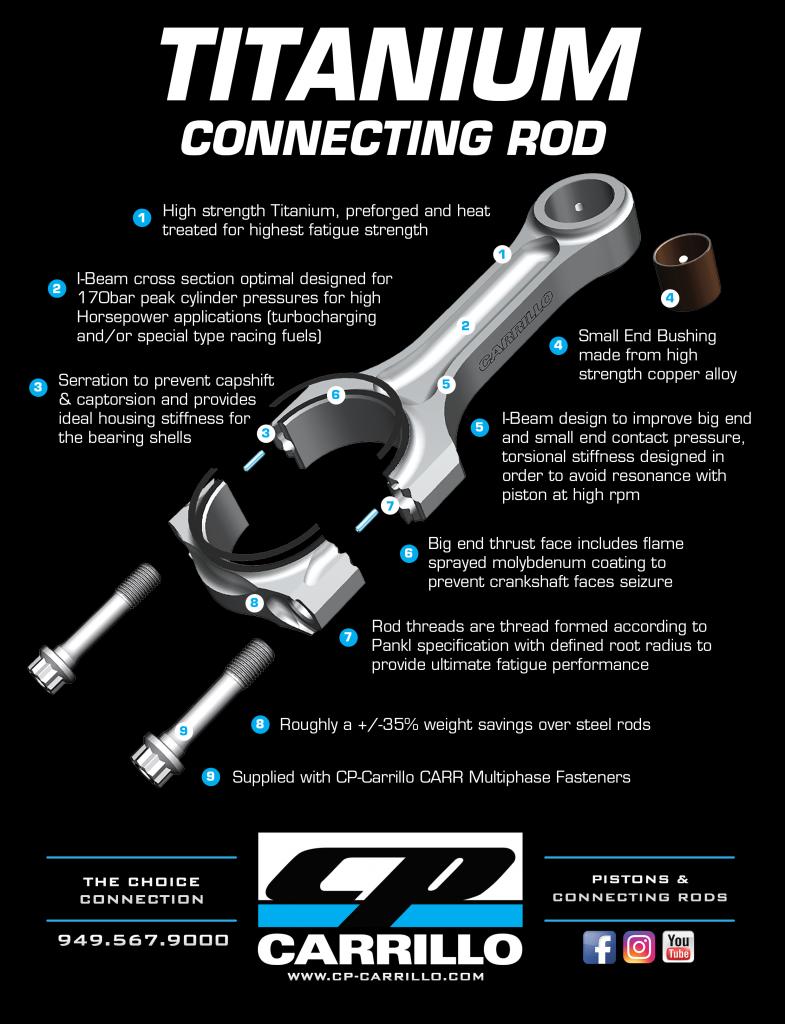 FOR IMMEDIATE RELEASE
April 29, 2020, Irvine, CA—After years of research and optimizing the synergies within our parent group of Pankl's technological advances, CP-Carrillo is proud to introduce its new line of Titanium connecting rods. These rods are purpose build and designed for endurance applications. Initially we are introducing Ti Rods for Suzuki Hayabusa applications, but other applications are in the works.
BUILT TO LAST
High strength Titanium, preforged and heat treated for highest fatigue strength
Serration to prevent capshift & captorsion and provides ideal housing stiffness for the bearing shells.
I-Beam design to improve big end and small end contact pressure, torsional stiffness designed in order to avoid resonance with piston at high rpm
Rod threads are thread formed according to Pankl specification with defined root radius to provide ultimate fatigue performance
Big end thrust face includes flame sprayed molybdenum coating to prevent crankshaft faces seizure
I-Beam cross section optimal designed for 170bar peak cylinder pressures for high Horsepower applications (turbocharging and/or special type racing fuels)
Small End Bushing made from high strength copper alloy
Supplied with CP-Carrillo CARR Multiphase Fasteners
Roughly a +/-35% weight savings over steel rods
Sets balanced to within +/-1 gram
ISO 9000 & IATF 16949:2016 certified
ABOUT CP-CARRILLO
CP-Carrillo was founded with the mission of servicing the needs of enthusiasts and racers who desire to build the highest quality engines. CP-Carrillo ensures the highest quality by using the latest technology to manufacture its products, including state-of-the-art equipment, proprietary tooling, dedicated cutters and unique fixtures, computer modeling, five-axis machining and a multi-level inspection process that includes an advanced climate-controlled inspection department. CP-Carrillo is a member of PANKL Racing Systems.
CP-Carrillo
1902 McGaw
Irvine, CA 92614
949-567-9000 Phone
949-567-9010 Fax