Products » Rings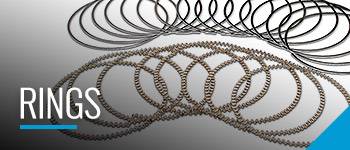 Close
Rings
The principal function of the piston rings is to form a seal between the combustion chamber and the crankcase of the engine. The goal is to prevent combustion gases from passing into the crankcase and oil from passing into the combustion chamber. During the compression and power strokes, the compression ring seals the combustion gases and prevents blow-by. Although blow-by is not completely eliminated it is kept to an acceptable limit. During the compression and exhaust strokes the cylinder walls are lubricated with oil by throw off from the connecting rod bearings. Excess oil is wiped off by the piston rings. Not only does the oil ring have the responsibility of wiping the excess oil off the cylinder walls, but the job is also shared by all of the rings, leaving a fine layer of oil on the wall to provide lubrication for the following ring.
CP-Carrillo offers the latest materials and coatings available to keep pace with the growing trends in engine technology. We offer a variety of materials and coatings for piston rings ranging in diameter – from Automotive and Diesel, to Powersport and Marine.
---
Top Rings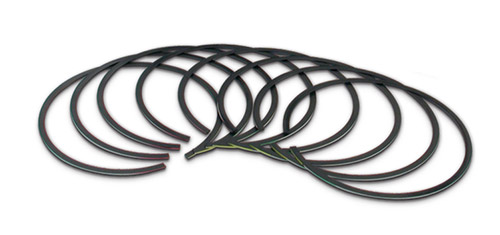 Our top rings are produced to give our customers the best possible ring seal and minimize blow-by
Manufactured from high strength ductile iron for optimum durability
Plasma molly faced for superior cylinder wall sealing
Available in black-cut radial depths to reduce parasitic drag and reduce ring flutter in the higher RPM range
Designed for file fit
---
Second Rings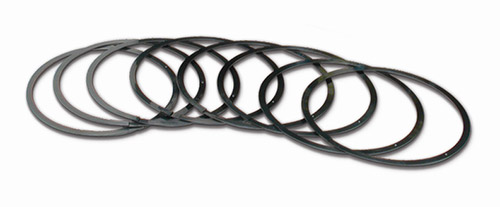 Our cast iron Second Rings are designed to aid in oil control.
Taper faced and reversed bevel tapered for quick seating
Phosphate coated
Available in .043, 1.5mm and 1/16 widths in a variety of bore sizes and over sizes
Available in black-cut radial depths to reduce parasitic drag
Designed for file fit
---
Oil Rings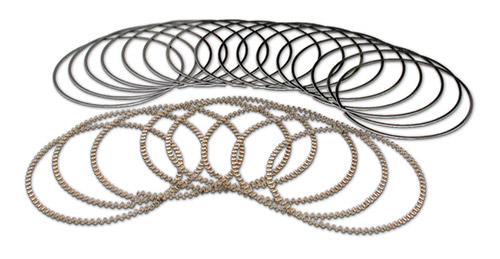 CP-Carrillo offers several different Oil Ring combinations depending on customer needs and requirements.
Available in a variety of widths and radial depths
Available in a variety of bore sizes and over bores
For low tension applications, mini flex vents or reduced radial designs are available.
---
Ring Sets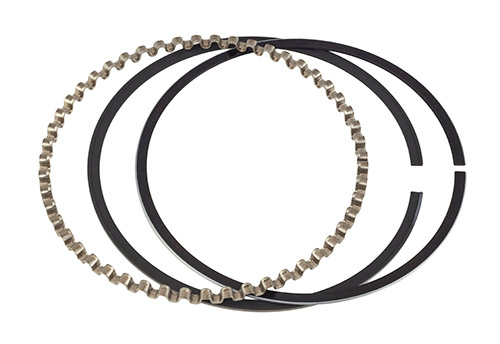 Purchased in bulk from the finest manufacturers in the world and packaged in combinations for your application. All rings are also available individually.
These sets deliver reliable and dependable performance and come in a variety of sizes and widths. CP-Carrillo can custom design any combination Top, Second, and Oil ring shown, to be made as a custom ring set.
In Choosing your ring combination we consider:
Power adders (supercharged, turbocharged, nitrous)
Type of racing
Type of fuel
---
PVD Rings
These rings are the next technology. Providing excellent wear, corrosion, and scuff resistance. The PDV coating adds hardness and toughness to the ring as well as helps reduce friction. This coating is better than traditional gas nitriding alone. For those pushing high HP levels and a lot of power these rings have a stronger top ring (1.2mm) that can withstand more cylinder pressure before the risk of fluttering and we recommend them for its friction/drag reduction against the cylinder. These rings are offered in a variety of bore sizes.
---
CPN Ring Sets
Small bore and Sport Compact engines with higher cylinder pressure require better sealing power than most other applications.
Our CPN ring sets are designed to meet those high demands.
Compatible with today's new cylinder materials, such as Nikasil, these high strength, low tension ring sets offer optimum sealing with minimum drag.
Each set consists of a gas nitrided steel 1.0mm top ring, a Taper hook groove (THG) Napier style 1.2mm second ring with a low tension 2.8mm flex vent oil ring. 2.0mm rings are available in the PDN2 ring sets.
CPN is 1.0 1.2 2.8mm
CPN2 is 1.0 1.2 2.0mm
CPNG is 1.0 1.0 2.0mm
The bore size is incorporated in the part number: EXAMPLE: CPN-2874 = 2.874 bore