CP-Carrillo releases new 2019 Kawasaki KX450F Dirt Bike Piston part #MX3034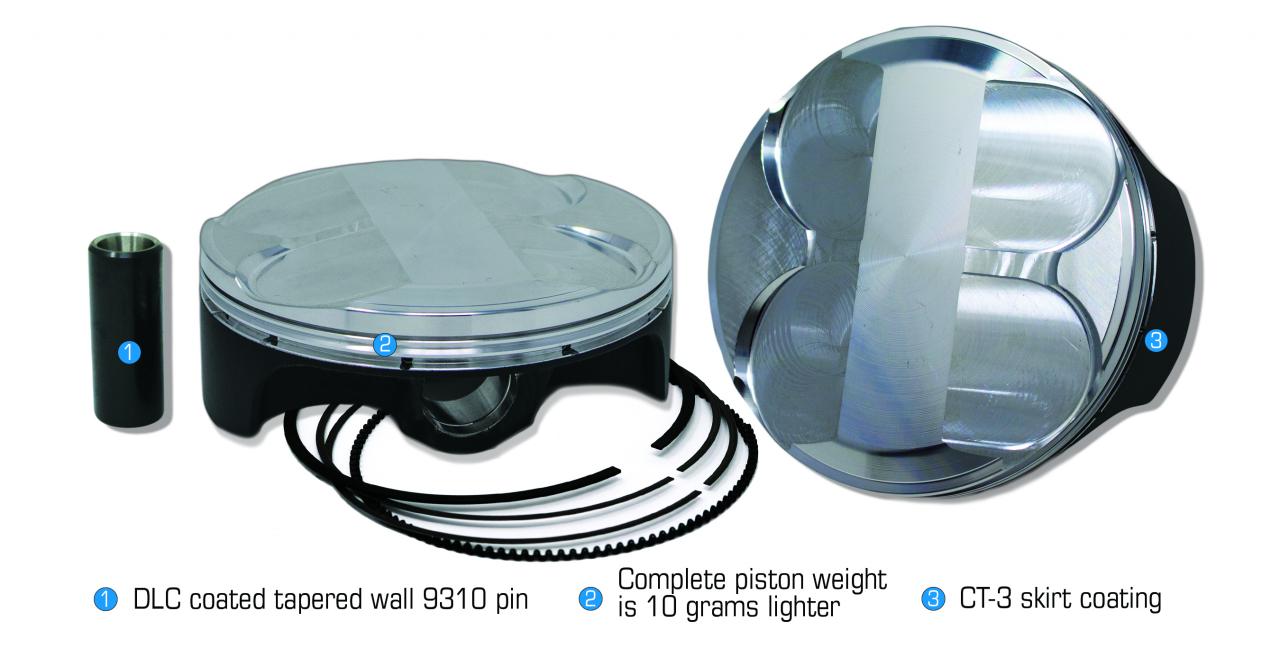 IRVINE, CA – CP-Carrillo has a new race version piston for the 2019 Kawasaki KX450F dirt bike. This new piston features 14.0:1 compression ratio, a newly engineered and extensively tested tapered wall DLC coated wrist pin made from 9310 steel, CT-3 skirt coating, and our tried and true CP9600 ring pack. The CP9600 ring pack features a .8mm carbon steel gas nitride top ring with a 2mm oil ring setup. The piston is designed with a new cam and barrel profile, is intended for standard 96mm bore and weighs 10 grams less than the non-race version. This piston is engineered and manufactured for the rider that must have maximum performance and reliability in his race machine. The piston kit comes complete with piston, pin, locks and rings.
CP-Carrillo offers a wide variety of high performance piston kits and connecting rods for the Powersports segment. New additions to our line up give the customer more choices than ever to choose from for premium quality pistons and rods. With the assistance of high level race team and engine builders, all of our kits have been developed using proven technology to ensure maximum power and durability. As a company, quality is always one of our top concerns, and we continue to move forward by continually setting the bar higher while pushing ourselves to the next level. By doing this you can rest assured that every piston and rod that leaves our company is of the highest standard and of the latest technology.
About CP-Carrillo
CP-Carrillo strives to be the globally dominant manufacturer of pistons and connecting rods for racing and high performance industries. We are committed to growth through quality, value, customer satisfaction and continuous improvement. We craft these two pinnacle products at our headquarters and manufacturing plant in Irvine, California, USA. For more information please visit https://www.cp-carrillo.com/, like us on Facebook https://www.facebook.com/CPCar/ and follow us on Instagram https://www.instagram.com/cp_carrillo/ to learn more about us.